News/Events > Press > TFTLabs and Samsung Galaxy S4™
FOR IMMEDIATE RELEASE , Bron, France, May 23nd, 2013.
TFTLabs and Samsung Galaxy S4™
Ultimate mobile 3D
TFTLabs S.A.S, announces today in this latest release the validation of its TFTPAD™ app for Samsung Galaxy S4™.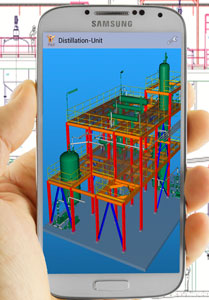 With this new hardware, reading of 3D assets with TFTPAD™ is boosted by x5 compared to S3
and playing around very large assemblies reaches unsurpassed fluidity.
Improvement of battery life guarantees this performance over time.
JSON3D technology behind TFTPAD™ was designed for scalability in performance as
mobile hardware evolves.
The results of the benchmarks with Samsung Galaxy S4™ and latest version of Android
confirms that this goal was reached.
" This Samsung Galaxy S4™ generation of devices allows us to put a large panel of new functionalities for our mobile product TFTPAD, especially for 3D collaboration and publication "
says Francois Chretien, CEO and Chief Scientist.
"Texture display is really amazing on this new device with fabulous screen definition. "
says Jean-Luc Brocard, COO and Quality and Customers Support Manager.
TFTLabs products work directly on 3D data from all native or generic CAD formats (more than 20 formats) up to their latest revision.
With TFTLabs technology visualize and share 3D models from web browser or mobile devices.
Test for free JSON3D Gallery on the web, or from your mobile with TFTPad app, available on Google Play.

Within TFTPad, interact with 3D models using the intuitive touch interface. Pinch to zoom, single finger drag to rotate, two fingers drag to pan and double tap on the screen to fit all the model.
With TFTWeb, the instant messaging system for 3D, communicates and collaborates on 3D native data on various operating systems and browsers.
Create pages together with annotations, dimensions, detailed or exploded views, textual information …
With TFT4iT, software editors can easily integrate our 100 % web-based 3D toolkit and access directly to all major 3D CAD file formats. Software editors can now take benefit of the JSON3D format real openness and perenity.
The whole technology behind the products is owned by TFTLabs, whose key people have a unique experience in 3D interoperability since 20 years.
TFTLabs SAS is a company dedicated to 3D Open solutions for Web Computing in the Manufacturing Market founded by CAD and Interoperability Veterans.
TFT4iT, TFTWeb, TFTPad and TFTLabs are registered trademark of TFTLABS SAS, All other trademarks are the property of their respective owners.